Adipurush's producers have released a brand-new poster featuring Prabhas, Kriti Sanon, Sunny Singh, and Devdatta Nage in honour of Ram Navami.
The magnificent Adipurush poster has now been released by the creators on the auspicious occasion of Ram Navami! The mega opus, which debuts on June 16, 2023, stars Prabhas, Kriti Sanon, Saif Ali Khan, Sunny Singh, and other top actors.
New poster of Adipurush unveiled on Ram Navami
On the auspicious festival of Ram Navami, the creators of "Adipurush" unveil the magnificent poster for the movie to lights and shouts. In the poster, Devdatta Nage as Bajrang is seen bending down to Prabhas as Raghav, Kriti Sanon as Janaki, Sunny Singh as Shesh, and Sunny Singh as Janaki. The movie upholds Prabhu Shri Ram's virtues of dharma, bravery, and sacrifice, which are correctly reflected in the tasteful poster. Prabhas posted the following alongside the new Adipurush poster: "Mantron se badhke tera naam Jai Shri Ram." Check out the poster below!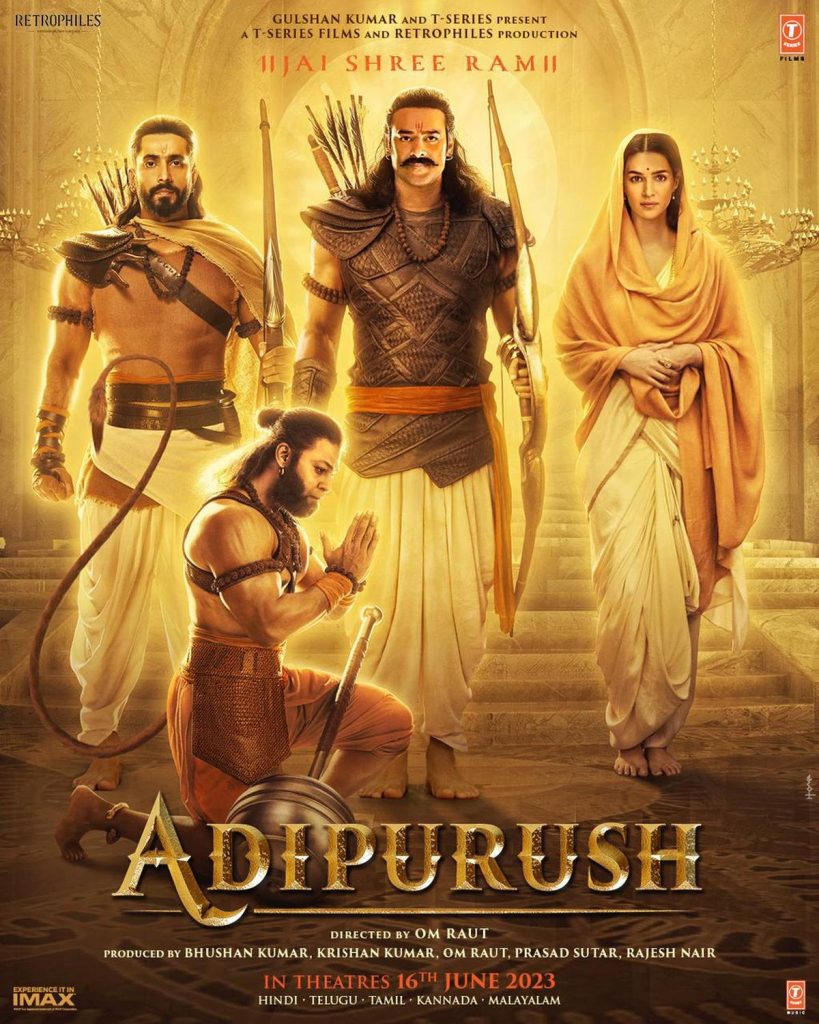 When Lord Shri Ram's birth anniversary and the beginning of kindness are commemorated on Ram Navami, the creators disclose an important divine symbol that signifies the foundation of dharma to triumph over adharma.
About Adipurush
One of the most eagerly awaited movies of the year is Adipurush, in which Prabhas portrays Raghava, the titular ruler of Ayodhya. The drama, which takes place 7,000 years ago, tells the tale of Raghava's voyage to Lanka to save his wife Janaki (Kriti Sanon), who had been kidnapped by Lankesh. Saif Ali Khan makes his Telugu film debut with Adipurush as the main antagonist Lankesh. On June 16, 2023, Om Raut will direct and produce Adipurush, which is being distributed worldwide by T-Series, Bhushan and Krishan Kumar, Om Raut, Prasad Sutar, and Rajesh Nair of Retrophiles.