The trailer for the highly awaited Mohanlal-Shaji Kailas movie "Alone" is scheduled to be released by the producers on January 1st, 2023. The same was formally declared by Mohanlal, a celebrity.
On the last day, Mohanlal revealed a brand-new poster for his forthcoming film "Alone" on his official Facebook page. The "Monster" star posted the image along with a comment that read, "Alone (2023)." The tweet quickly became inundated with comments from moviegoers and fans who are all excitedly awaiting the release of the "Alone" teaser on New Year's Day. Some of the admirers even remarked that the year 2022 was not good for Mohanlal and that they anticipate the legendary performer to recover in the following year, 2023.
The creators of Mohanlal's "Alone" previously revealed an interesting teaser that definitely raised the bar for the film. With only one character and the rest of the ensemble simply appearing as voices, "Alone" will be a departure for hitmaker Shaji Kailas.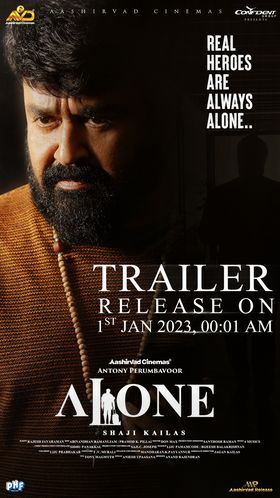 Rajesh Jayaraman wrote the screenplay for "Alone," which is directed by Shaji Kailas. Abhinandhan Ramanujam and Pramod K Pillai shot the film. The movie's editor is Don Max, while Liju Pamamcode did the makeup.