Ram Charan just made an appearance on Good Morning America 3, one of the most-watched programmes in the country. He attracted enough attention with his fashion choice.
Power Star Mega Comfortable and timeless are the pillars of Ram Charan's fashion philosophy. He is capable of rocking any appearance with swagger and panache. His most recent two appearances during his trip to the States are evidence of his endearing personality. Tom Ford is an American brand that Ram Charan wore to the Hollywood Critics Awards in 2023.
One can observe that RC wears dapper formal black slacks, a white shirt, and a velvet copper jacket by Tom Ford. The RRR actor polished up his ensemble with a pair of tuxedo pants and a bow tie, adding a pair of black formal shoes. The velvet jacket alone is estimated to be worth Rs. 4 Lakhs. His fashion path has inspired goodwill both within and outside of the industry.
Ram Charan in Tom Ford
Ram Charan selected Osman Abdul Razak for an interview round from a domestic Indian label. The dashing man traveled from Chennai to the US wearing a timeless, custom-made grey suit for Good Morning America and ABC News. Ram Charan paired it with a simple, well-fitted round-neck shirt and moccasins to keep it as contemporary as he could.
Ram Charan has always combined Indian and foreign labels in his style, and we can't wait to see what else he has in store.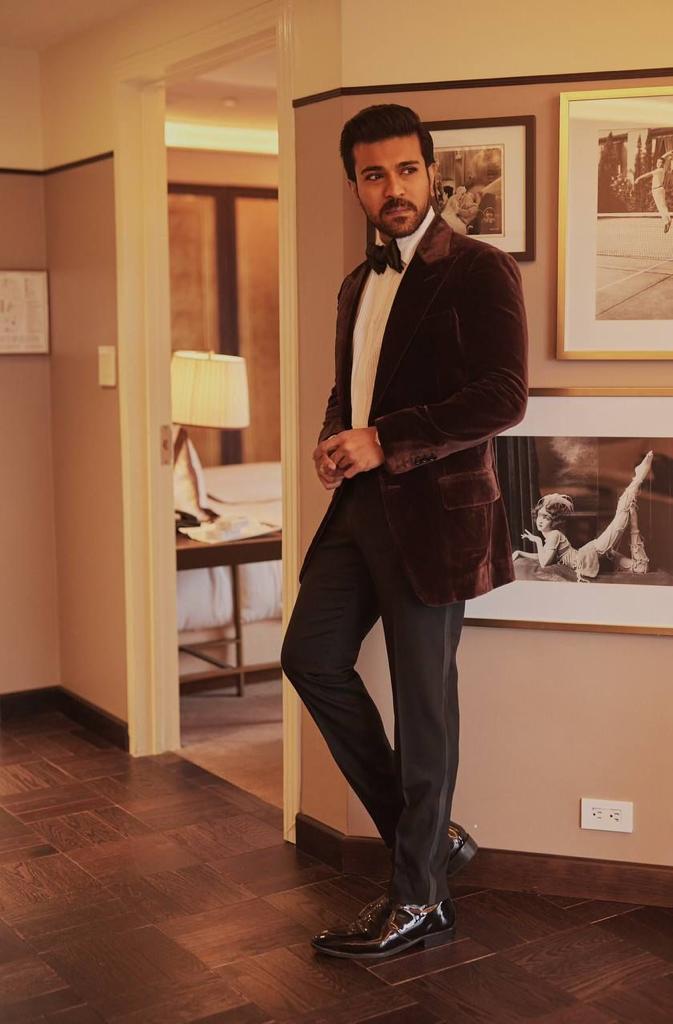 Which of the two looks do you prefer? Comment below with your thoughts and let us know.
During the 2023 Hollywood Critics Awards, Ram Charan arrived on stage with director SS Rajamouli to accept the Best Foreign Feature honor for the hit movie RRR. "My director had simply ordered me to join him, so I wasn't planning on getting up on stage. We appreciate all of your support, and this is a wonderful reaction. We will return with better movies to continue to amuse you. Thank you, HCA "Ram Charan, who was on stage alongside Rajamouli, made the following statement.