Everything seemed like a dream—a fantastical fantasy realized—the moment one entered The Hearts of Harris Concert Hall.
Who else except Malik streams Corporation has the power to make such a fantastic night a reality? Yes, Malik Streams have once again given us a once-in-a-lifetime musical experience that will always be unique, being the first Indian performance taking place this year in Malaysia.
A packed house of around 10,000 people attended the MS Gold-presented Hearts of Harris performance on January 21, 2023, at the Axiata Arena in Bukit Jalil, Kuala Lumpur.
Heart Of Harris Full House?
Google is always right. Vaseegara was listed top when Harris Jayaraj's rainy song was searched. Before the show, was it simply me replaying the song since it was raining, or was it also you?
Despite the brief rain showers, the audience began to grow around 4 o'clock. Some individuals arrived equipped with umbrellas. Those without one, however, need not fear because there are sellers selling raincoats on every corner. In addition, there were roving merchants and food trucks providing beverages and food to keep the crowds engaged.
Malik Streams expertly directed the mass of people. According to the reserved seating, they divided the crowd outdoors. Many found it easy to locate their ticket rows because to the large, obvious signs. The entire squad did a fantastic job of controlling the crowd.
The gate was supposed to open at 5 pm, but owing to complications, it was delayed by around 30 minutes. When the gates opened at precisely 5.30 pm, security personnel checked carefully to make sure no illegal objects had been brought in. Additionally, tickets were verified, and personnel were stationed in each corner to direct the throng to their seats inside.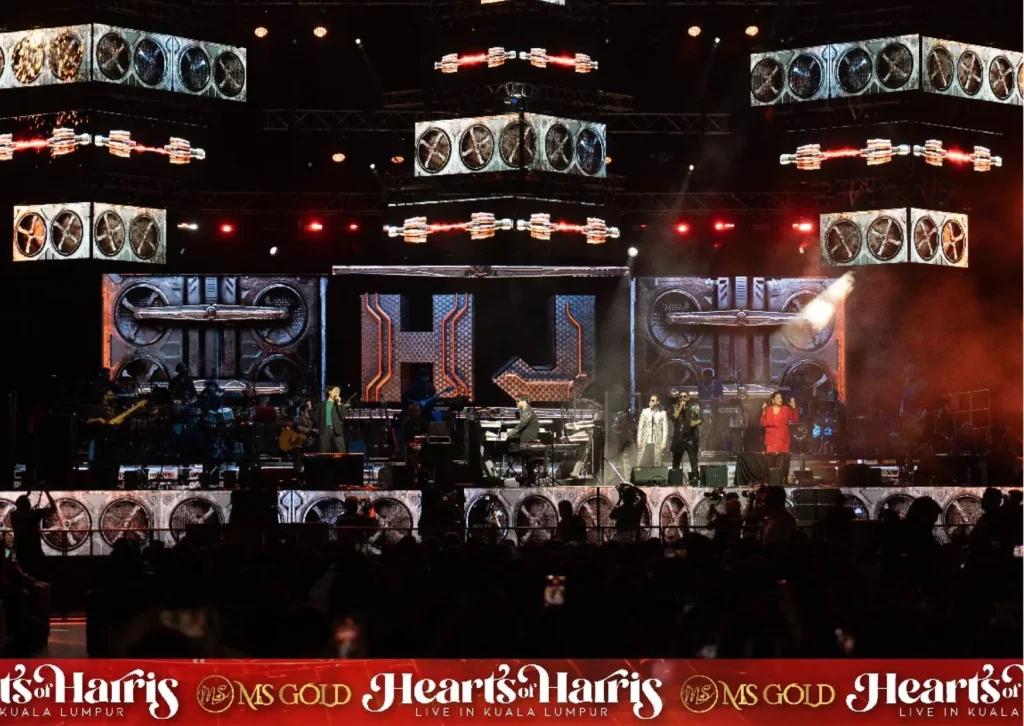 The Banger
The venue was taken over by the city's favourite DJ combo, DJ Dasz and DJ Jay, during their 50-minute jam session. As the crowd gradually filled the stadium, both DJs provided incredible rhythms. Many were observed dancing while listening to "Yaakai Thirri." Amazing atmosphere!
After playing some of his favourite dance music, DJ Dasz led an interactive flashlight session with the crowd. While DJ Jay's calm, mellow sounds enchanted the entire crowd. When the DJs played the Thunivu single "Gangstaa," the audience went absolutely crazy. Nearly everyone in the stadium lost their minds. That was a very outstanding opening act.
Special Entry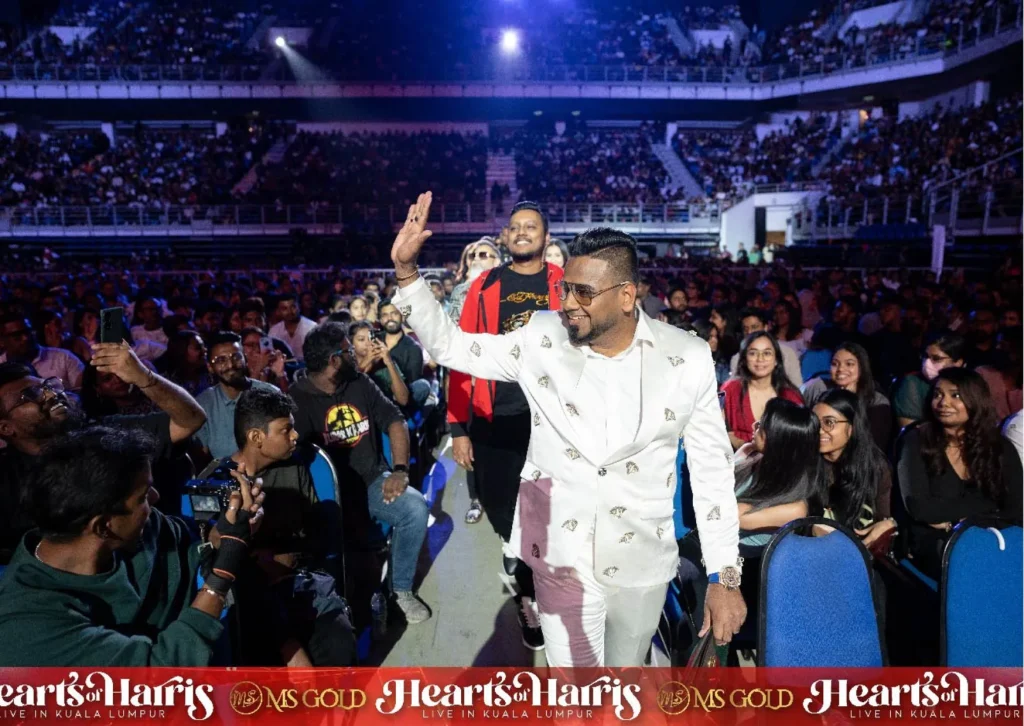 The session was brought to a close as the DJ's initial performance came to an end with the entrance of two special guests and the person in charge of organising the Hearts of Harris Concert. Shivani Narayanan of Big Boss fame, Datuk Seri Saravanan Murugan, and the big man, Datuk Abdul Malik, CEO of Malik Streams Corporation, attended the event as special guests.
Local Artist Performance
At 7:30 p.m., the programme began, featuring performances by a number of gifted local performers. The audience was amused by a couple of the hit songs produced by Music Kitchen, one of Malaysia's up-and-coming hit producers, together with Sheezay, Arvind Raj, and Amos Paul. The entire stadium was dancing to the music, starting with Certified Indian Actresses (C.I.A.) and ending with sotta sotta.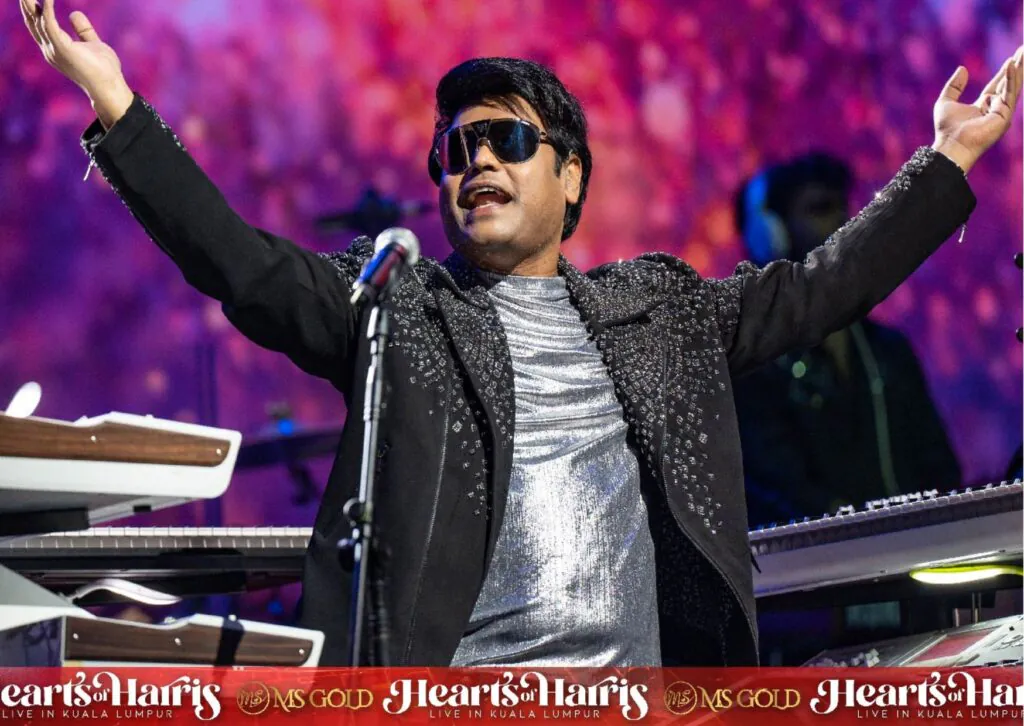 "Harris Jayaraj's Yedho Ondru was the one and only song that brought me to where I am today, shared Amos Paul as he sings it along. The whole crowd sang along when Amos Paul went- "ada rama ivan padu indha penmai ariyadha" – Hats off to all these young local artists.
The legendary Darkkey often steals the stage at concerts, and he did it one more. "Akkamage" and "Puli Puli," the two most exciting songs ever, by Darkkey and Elan The Keys, increased the level of enthusiasm. Almost everyone in the stadium was engaged and doing Darkkey's famous head-bang as a result of their recognisable dancing skills and song verses that energised the crowd.
Laugh Out Loud!
They will always have a sizable fan base in Malaysia in addition to being India's favourite host. Ma Ka Pa and Priyanka engaged the crowd in an interactive, belly-laughing session. Another surprise performer, comedian Pugazh, who is most known for his work with Comali, made his way to the stage and cracked fantastic jokes with the audience. (They simply have the nicest sense of humour; we are grateful that you made us laugh uncontrollably.)
A Whole New World
The moment that we had all been waiting to see was about to happen. The stadium lights became less bright as the timer ticked down. It is pitch black with intermittent flares of light. The atmosphere in the arena was bizarre.
As soon as Harris Jayaraj entered the stage with his piano and began composing "Uyirin Uyirae" from Kaakha Kaakha, the audience began yelling their lungs out. It was really wonderful how his enthralling musical creation transferred the stadium to another realm!
If there were about to be four words to describe Harris Jayaraj's performance as soon as he stepped foot on stage: exhilarating, melodious, lively, and dreamy.
Each melody he created live struck a chord, brought back a memory, or evoked a distinct emotion in the greatest manner imaginable. Harris Jayaraj enthralled the crowd all night long with his stage presence and live compositions. My particular favourite was when he used his piano to create the "Thuppakki BGM," which truly gave me the willies. And when Harris Jayaraj sang the song Vaseegera live on stage, it's impossible not to feel the emotion. The arena was lit by swinging spotlights, and it was a beautifully moving scene.
As soon as "Ava Enna" from Vaaranam Aayiram was composed, the whole audience—which had just begun to take their seats—rose to their feet and began dancing while yelling their hearts out repeatedly.
Anjalai is a word, yen anjalai macha ava is an emotion – Harris Jayaraj made us feel that with his composing that night. Watching the crowd dance and singing it with a feel – I just cannot fully describe with words, it was like stepping into a whole new world.
After then, the programme came on in perfect sequence and included songs with emotive melodies, dancing hits, and even instrumental music.
Haricharan, Benny Dayal, Vijay Prakash, Karthik, Krishh, Sridhar Sena, Dhivagar, Andrea Jeremiah, Saindhavi, Hari Priya, Vishnu Priya, Srinisha, Sharmila and Samuel Nicholas Jayaraj were the stars that made the night shine even brighter along with the melody king.
Special Note: Samuel Nicholas Jayaraj is the son to the Isai Minnal, Harris Jayaraj. This marks Samuel's first ever performance in his music career.
The cries of "girl crush" emanating from the fans made ears vibrate every time Karthik and Krishh stepped forward to play their songs. Not to mention how the guys erupted in laughter when Andrea Jeremiah sang "google google" from Thuppakki. The final piece of the magnificent night's missing puzzle was Saindhavi's voice.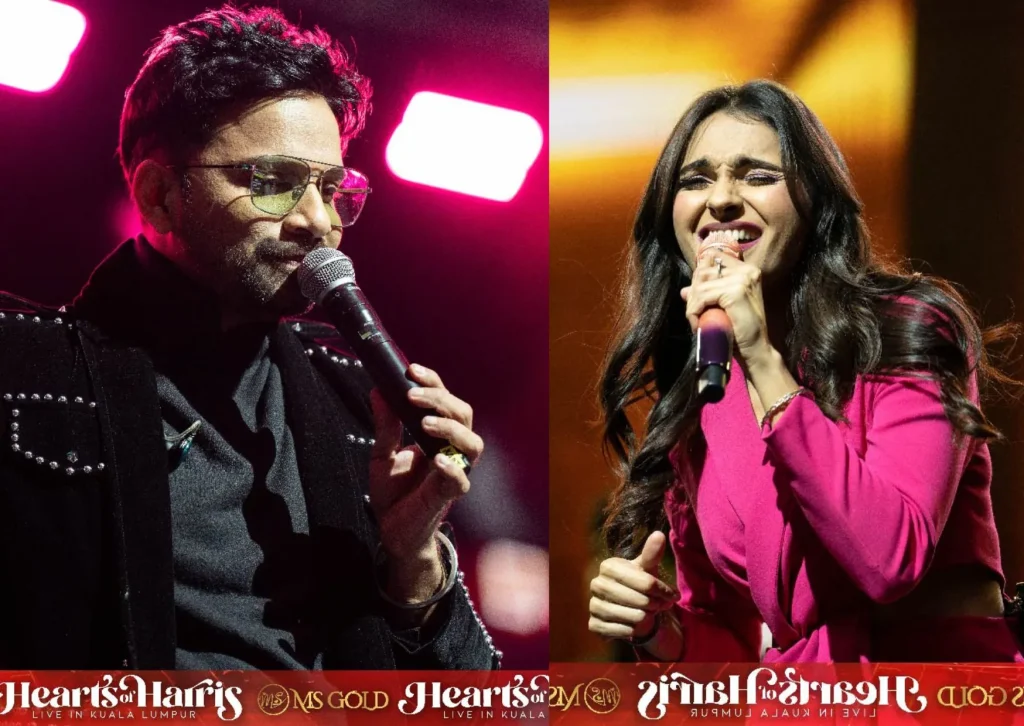 "Vaseegara was my first audition song, that showered me to stardom", said Saindhavi as she performed that amazing hit of Harris Jayaraj.
It never fails for Benny Dayal's energy to relax the jazzy environment. The melodious voices of Haricharan and Vijay Prakash also mesmerised the audience. Also, we appreciate you giving us a Bombay Jayashree vibe, Vishnu Priya.
Along with their singing, local Malaysian artists Dr. Burn and Emcee Jesz delivered live performances to Harris Jayaraj's compositions. Particularly while seeing that life on stage, Dr. Burn's verse in "Hasili Fisiliye" and Kavithai Gundar Emcee Jesz's rap in "Irumugan Settai" were amazing. Sharmila, however, completely captured the audience's attention as she energetically delivered the chorus from "Hasili Fisiliye."
The great vocal stars and India's incredible ensemble of musicians cannot ever be replaced. I'm really proud of them.
The Dreamy Performance
An emotionally melodic transition was made to the second half of the programme.
Isai Minnal declared that this would be a musical statement as he wrote 10 songs on various keyboards in real time.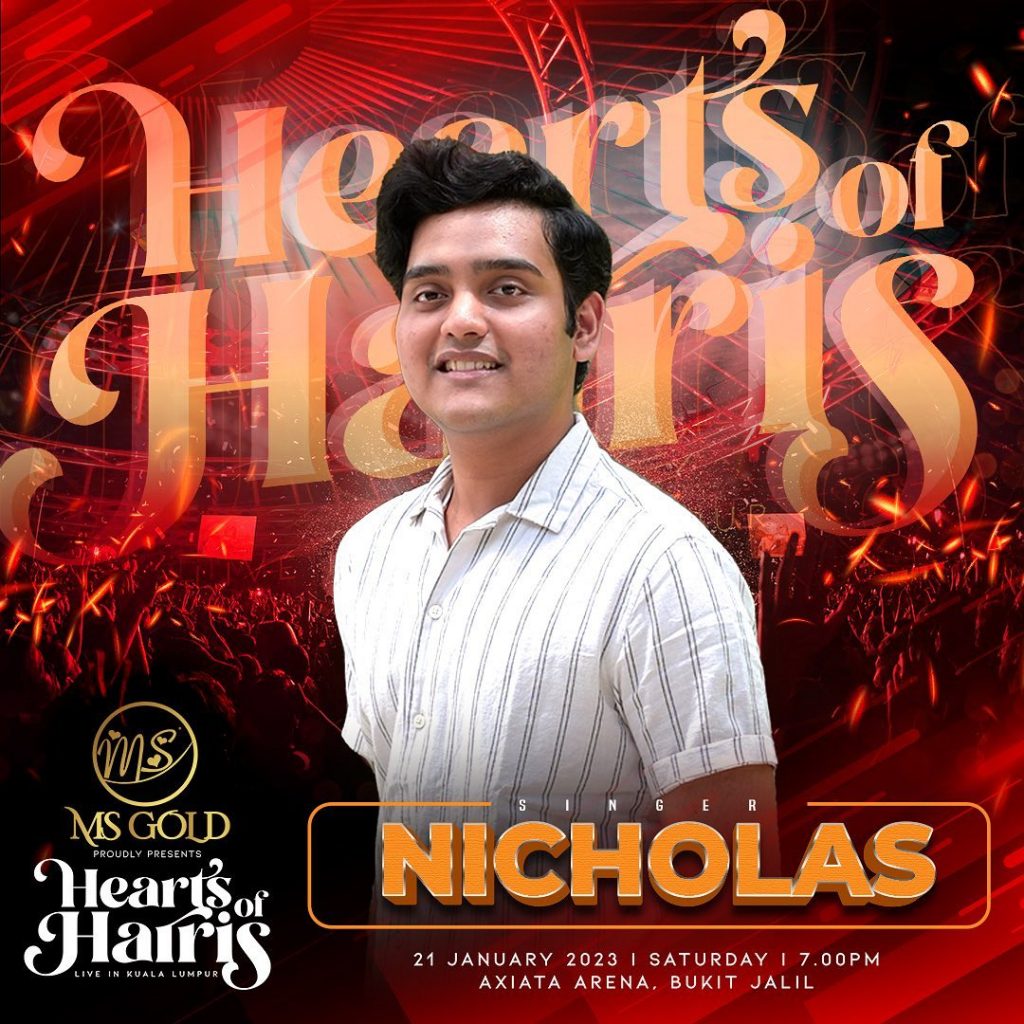 In this round, Samuel Nicholas Jayaraj took the stage first. He lifted our feet off the ground with his rendition of "Iru Vizhi Unathu" from his father's well-known album Minnalae. Then comes:
Suttum Vizhi – by, Srinisha
Asku Laska-by, Vijay Prakash
Unakkenna Venum Sollu- by, Benny Dayal
Annul Maelae- by, Saindhavi
Iyengaaru Veetu Azhage- by, Haricharan
June Ponal- by, Krishh
Poove Vai Pesum Pothu- by, Hari Priya
Aval Ulaghazhagi & Oru Manam- by, Karthik
Now that was a complete teleportation to Harris Jayaraj's heart- Well, guess that's why it was named Hearts of Harris after all.
Lighting And Sound
The crowd was fully engrossed thanks to the fantastic sound and music that blasted from the speakers. The arena was put up in a relaxing area so that spectators may relax and take in the enchantment created by the Isai Minnal. While the lighting was terrible since it heightened the magical night's excitement, intensity, and passion.
Waking Up From The Dream
Audience members shouted, "WE WANT MORE! WE WANT MORE!" as the evening came to a close.
"Thank you for all the love and for making this three-hour show a huge success, Malaysia. As Harris Jayaraj closed the evening with his rendition of "Manjal Veyil" from Vettaiyaadu Vilaiyadu, he commented, "The amount of love we received today made us wonder: Is it the audience going all the way to see us play or are we coming all the way to see such a wonderful crowd?"
Well, it was clearer than ever that Harris Jayaraj's evolution as a composer is one that shall never end. The story is still being written, and with no end in sight, the Isai Minnal's timeless value continues to shine.
Hearts Of Harris Concert 2023 Gallery: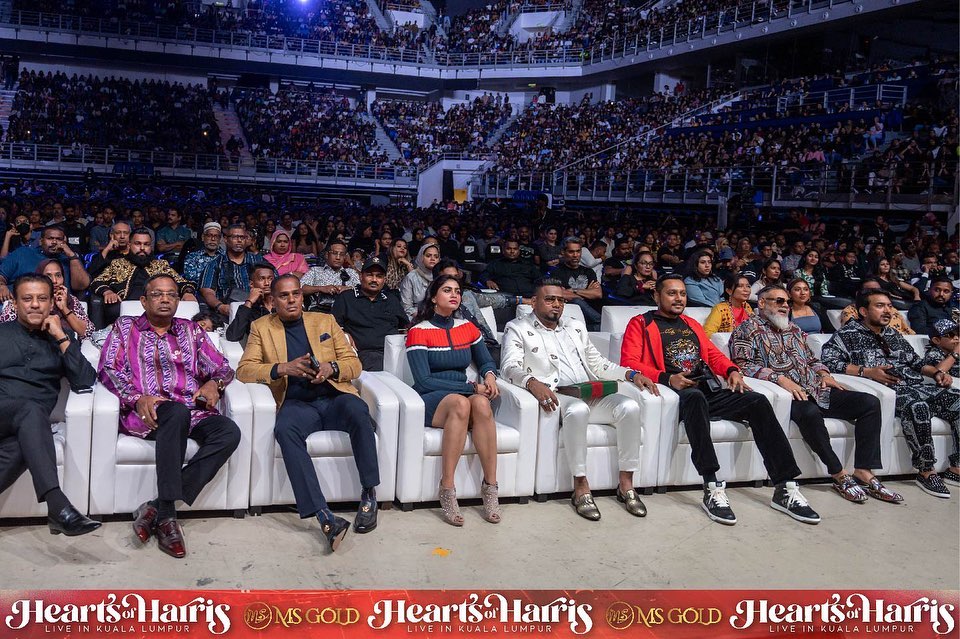 Credit: MS Gold and varnam.my