The film, which debuted in theatres earlier this month, was directed by Chella Ayyavu.
Gatta Kusthi Movie OTT Release on Netflix: When wrestling champ Keerthi enters an arranged marriage with a chauvinistic Veera, she scrambles to be a traditional wife while hiding her true self.
Watch now Gatta Kusthi on Netflix: https://www.netflix.com/in/title/81615045
The digital premiere of Gatta Kusthi is set to take place. Both audiences and reviewers responded well to the film when it debuted. Early this month, Chella Ayyavu's film, featuring Vishnu Vishal and Aishwarya Lekshmi in the key roles, was released. After FIR, the film was Vishnu's second release in 2022.
Vishnu and Tollywood actor Ravi Teja both co-financed the project, which was released in Telugu as Matti Kusthi, through their respective production companies, Vishnu Vishal Studioz and RT Media Works.
A happy-go-lucky kabaddi player marries an ambitious wrestler from Kerala in the film's central plot. The latter's love of the sport is unknown to the former, though. The rest of the narrative is what transpires in the couple's life after they discover each other's true identities. The actors' performances, a few comedic bits, and the well-shot battle scenes are among of the movie's appealing elements.
The likes of Kaali Venkat, Munishkanth, Karunas, and Lizzie Antony, in addition to Vishnu and Aishwarya, also stood out with their sincere performances in the movie. Music has been written by Justin Prabhakaran for the production, which also features editing by Prasanna GK and cinematography by Richard M. Nathan.
On January 1st, Gatta Kusthi will be available on Netflix. The OTT behemoth had purchased the digital rights to the movie, as we have previously reported.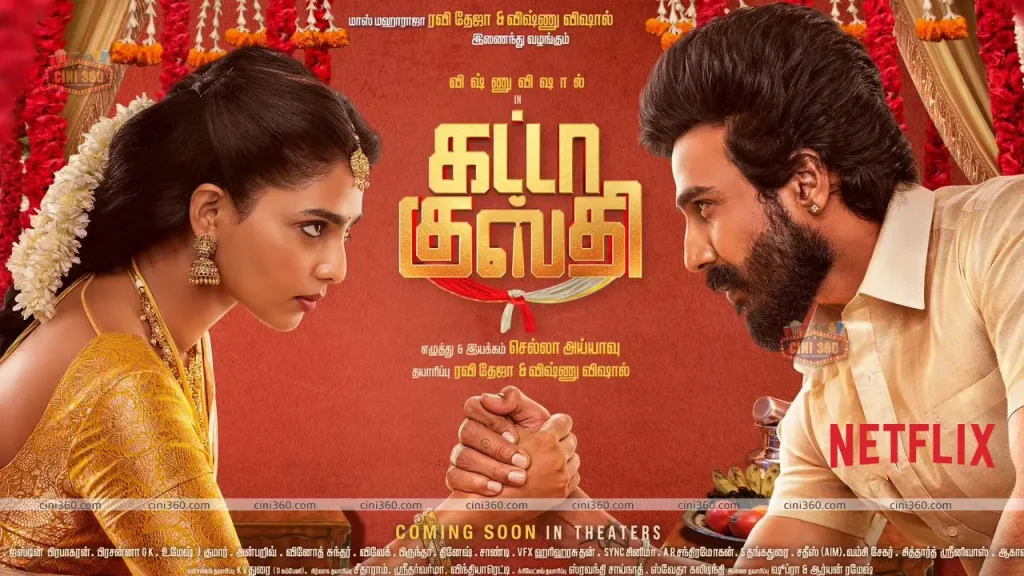 The release of Vishnu Vishal's upcoming film, Mohandas, which is anticipated to enter theatres in February, is now being eagerly anticipated by the actor's fans.