The Nelson directed film is releasing in theatres on August 10. In Karnataka, it will be available in Tamil, Telugu and Kannada
On Thursday, the highly anticipated movie "Jailer," starring the iconic Superstar Rajinikanth, is all set to hit theaters worldwide. In Karnataka, the excitement is palpable as advance online bookings have already opened, resulting in an impressive 1,200 shows scheduled, with a staggering 975 of them concentrated in the Bengaluru region alone. It is anticipated that the show count will increase further in the coming days.
Distributed by AV Media Consultancy and released through Jayanna Films in the state, "Jailer" will be available in three languages: Tamil, Telugu, and Kannada. The Tamil version, being the original, will have the majority of showings.
According to the box-office tracking site Karnataka Talkies, the pre-sales gross from online bookings for "Jailer" in Karnataka has already surpassed Rs 4 crore, with a significant portion of it coming from Bengaluru. Another tracking agency, Karnatakaa Box Office, predicts that the Rajinikanth-led film will enjoy a double-digit opening in the state.
However, some netizens have expressed concern over the inflated ticket rates, with multiplexes charging as high as Rs 800 for regular seats and Rs 1,400 for recliners. Despite these high prices, day 1 shows, particularly the early morning screenings, have mostly sold out, and others are filling up quickly.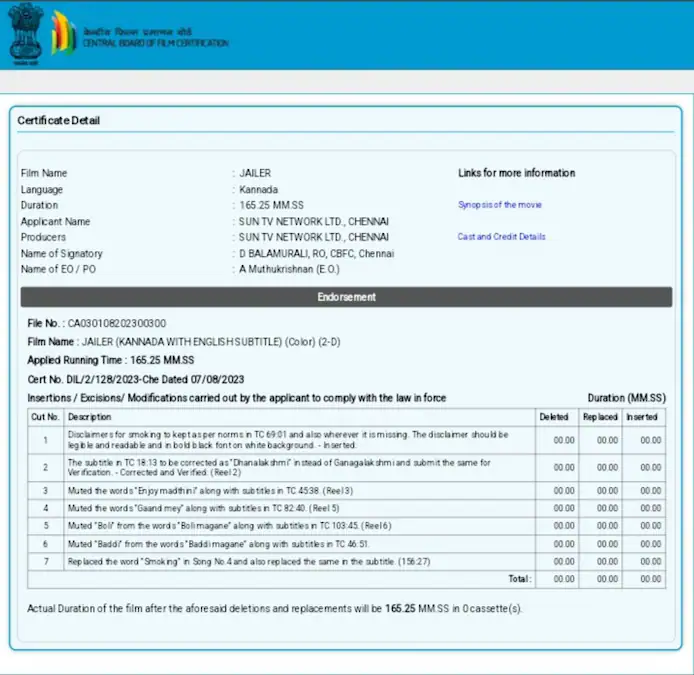 Directed by Nelson, "Jailer" has received a U/A certification from the censor board and boasts a runtime of 165 minutes. While the Kannada version of the film does not have any cuts, the censor certificate does contain suggestions to mute a few words. The movie features prominent actors such as Jackie Shroff and Vinayakan, along with pivotal cameos by Mohanlal and Shivarajkumar. The storyline revolves around Rajinikanth's character, Tiger Muthuvel Pandian, who foils a gang's attempt to break their leader out of a prison under his watch.
With all the anticipation and buzz surrounding the movie, "Jailer" promises to be an exciting and action-packed cinematic experience for Rajinikanth fans and moviegoers alike in Karnataka and beyond.