MS Dhoni's FULL SPEECH at the #LGM Audio and Trailer launch. MS Dhoni says he has been 'adopted by Tamil Nadu' at LGM trailer launch, jokes he didn't teach 'bad words' in Tamil to wife Sakshi
During the trailer launch of the film LGM: Let's Get Married, MS Dhoni gave a speech about the making of the Tamil comedy as well his connection with Tamil Nadu.
Cricketer MS Dhoni and his wife Sakshi Singh Dhoni launched the trailer of their first production, LGM: Let's Get Married, in Chennai on Monday. The Tamil film, presented by Sakshi and directed by Ramesh Thamilmani, is described as a comedy drama.
During the event, Dhoni spoke about the film's production process and expressed his deep connection with Tamil Nadu. Being associated with the Chennai Super Kings IPL team since 2008, he feels a special bond with the state.
CSK, give them a big whistle. My wife claims to know bad words in Tamil, but I haven't taught her any Tamil swear words because I don't know any. However, I know some in other languages. 😂
How many of you are married here? You all know who the boss of the house is. So when my wife suggested producing a film, I was on board.    
My first test debut was in Chennai. My highest test score is in Chennai, and now my first movie is in Tamil. Chennai holds a special place in my heart. I was adopted here in 2008 when the #IPL started. We decided to produce our first movie in Tamil because of our mutual love for the state.
Trust me, #LGM is one of the fastest-shot Tamil movies, and we completed it in record time. I wanted to make everyone happy, so I told my team two things: provide good food to everybody and once you make a decision, go for it without hesitation.
#LGM is a family-friendly movie. I can watch it with my daughter, and although she may have many questions, she will enjoy it. The film revolves around a guy who navigates the issues between his mother and girlfriend.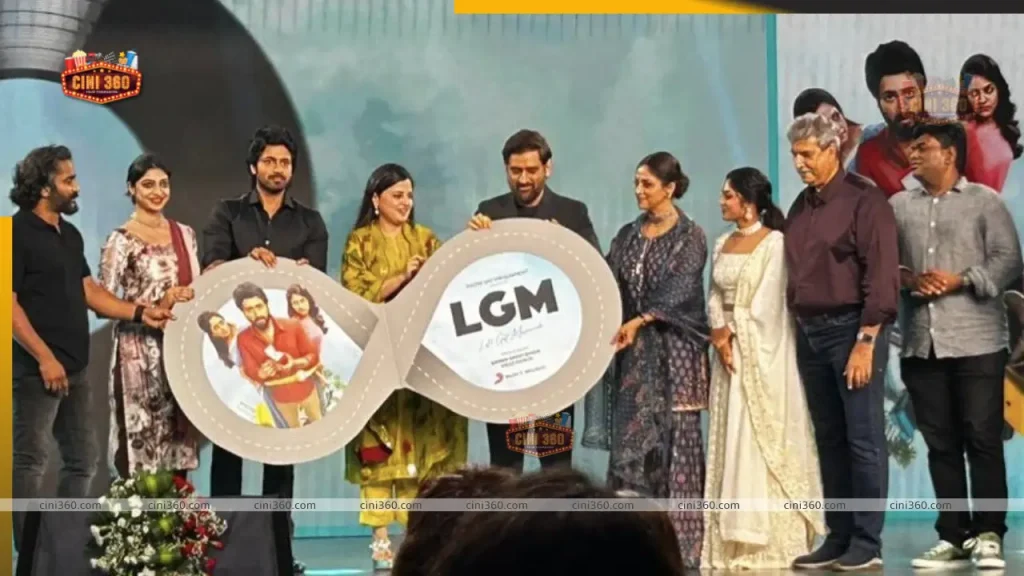 I didn't interfere with the work on #LGM because the production took place between two IPL seasons. However, I kept asking my team about the progress.
I really enjoyed the movie. #Nadhiya conveyed so much with her eyes, while @iamharishkalyan spoke a lot at the audio launch, but he has fewer lines in the film. The ladies don't let him speak much. 😂
(to Yogi Babu) Rayudu has retired, so there's a spot open in #CSK. I'll speak to the management. But you're so busy with shooting, you'll have to consistently play well. And let me tell you, the bowlers are really fast. They aim to injure you, no doubt. 😂
(when asked about his friend Deepak Chahar) It's not easy to describe him. He's like a drug. When he's not around, you wonder where he is, and when he's present, you question why he's here. But it's good to see that he's maturing. He'll probably be as smart at 50 as Ziva is at 8. Like wine, he takes time to mature. But I won't be able to enjoy that wine; I'll be retired by the time he matures. 😂😂😂
LGM Official Trailer Tamil | Dhoni Entertainment | Harish Kalyan | Nadiya | Ivana |Ramesh Thamilmani
Watch the Official Trailer of "LGM- Let's Get Married" Directed by Ramesh Thamilmani
The film's over 2-minute trailer depicts the story of a prospective bride who goes on a trip with her potential mother-in-law. However, things take a dark turn when they get kidnapped. This family comedy drama is supported by Dhoni Entertainment Pvt Ltd and will soon be released in theaters.
Produced by Sakshi Singh Dhoni, Vikas Hasija
Associate Producer- Sharmila J Rajaa-M.V.M Velmohan
Music Composed by Ramesh Thamilmani.
© 2023 Sony Music Entertainment India Pvt. Ltd.