An introverted young man with OCD who is dejected after his fiancé walks out on him learns to find happiness and positivity in life from two couples whose stories he reads about, according to the plot summary of the movie Nitham Oru Vaanam.
Review of the film Nitham Oru Vaanam: In a pivotal early scene, Arjun (Ashok Selvan), an OCD-prone introvert, forbids his fiancée from eating pani puri on the street because it's unhygienic. The girl makes the decision to stop having more and leaves with him. We see a scene that is similar to this one in the second half when Shubatra (Ritu Varma), a young woman he meets while travelling, decides to order pani puri on a whim. Arjun repeats what he told his then-fiance, who has since dumped him for another man and sent him on his journey, but Shuba ignores him and keeps having it. Arjun must acknowledge this and journey with her.
The motivation behind Nitham Oru Vaanam is this acceptance and education. The movie follows the tried-and-true formula of tales about a flawed hero who experiences tragedy and learns life's lessons by embarking on a journey that transforms them into a better person. In this instance, Arjun is trying to live his life according to his terms and, in the process, upsetting those who are close to him.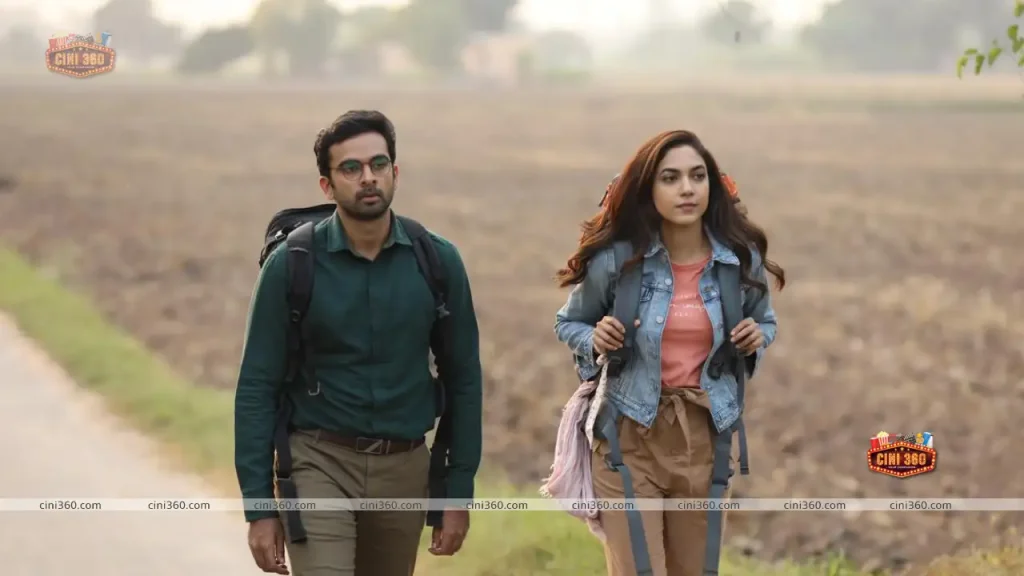 Arjun imagines himself as the protagonist in every story he reads, which is the conceit Karthik uses to make this well-known story feel novel. He is therefore naturally interested to learn what happened to Veera (Ashok Selvan) and Meenakshi (Shivathmika Rajashekar), two college students who fall in love and are forced to marry and lead a life without any support from their families, when he starts reading about their story. However, when he discovers that the last few pages of the diary in which the story is written have been torn off, he is naturally curious to know what happened to them. Similar to this, he imagines himself to be Prabha (Ashok Selvan once more), who ultimately provides a ride to Mathi (Aparna Balamurali), a vivacious runaway bride who only wants to get married to the man she chooses. Arjun, who is the type of person who cannot even wait a few minutes to read the continuation of page 1 stories in newspapers, decides to go on a journey to find out what happened to the two couples because the story here is also unfinished. How does this affect him, and where does it take him?
It takes a while for us to warm up to Arjun and his problems in Nitham Oru Vaanam because of its rocky beginning. In spite of the tastefully executed scenes, where the costumes (Navadevi Raikumar), art direction (S Kamal Nathan), and cinematography (Vidhu Ayyana) have the chic feel of commercials, there is a gap between the audience and the screen. Additionally, the early scenes feature an artificial and loud Arjun, as portrayed by Ashok Selvan, which doesn't help the situation. The following tale of Veera and Meenakshi, featuring a melancholy Ashok Selvan and a stiff Shivathmika, only makes matters worse. It is up to the music, particularly the background score by Dharan, to inject some life.
Only when Mathi enters do we notice a glimmer of life. Azhagam Perumal, who plays Aparna Balamurali's father Senniyappan, and she have sizzling chemistry in this scene. Aparna Balamurali is a firecracker. Unlike the Ashok Selvan in the opening scenes, the Ashok Selvan we see here is even entertaining and genuine. After the intermission, we start to like Arjun and the movie as it reveals what happened to Veera-Meenatchi and Mathi-Prabhu (a mystery that we initially aren't as eager to solve as Arjun is). Yes, the message—staying optimistic even in the worst circumstances—leads to manufactured scenes and predictability, but we can also feel the director's sincerity. Additionally, the stronger performances here, with the We are immediately drawn to the cheerful Ritu Varma, the reliable Sshivada, and a surprise guest star's characters. This would have been a breeze if the first half had just the same kind of charm.
Just as we anticipate, Arjun learns to be optimistic by the end. In contrast to his older self, who did not even want to leave Chennai for his honeymoon, he gains confidence and literally lets go of his baggage as he sleeps outside, wipes his wet hands on his dress, travels to far-off places, and lets go of his baggage! He might eventually sell pani puris next to the street, too!