"Tamannaah Bhatia Sparks Frenzy with Latest Instagram Post Ahead of Rajinikanth Movie Release"
Tamannaah Bhatia and Vijay Varma, the latest showbiz couple, are setting social media ablaze with their adorable online romantic exchanges. Their comments on each other's Instagram posts never fail to create a massive buzz. Having showcased their scintillating chemistry in Lust Stories 2, the 'madly in love' duo is once again capturing everyone's attention on the internet. Here's why they are becoming the talk of the town!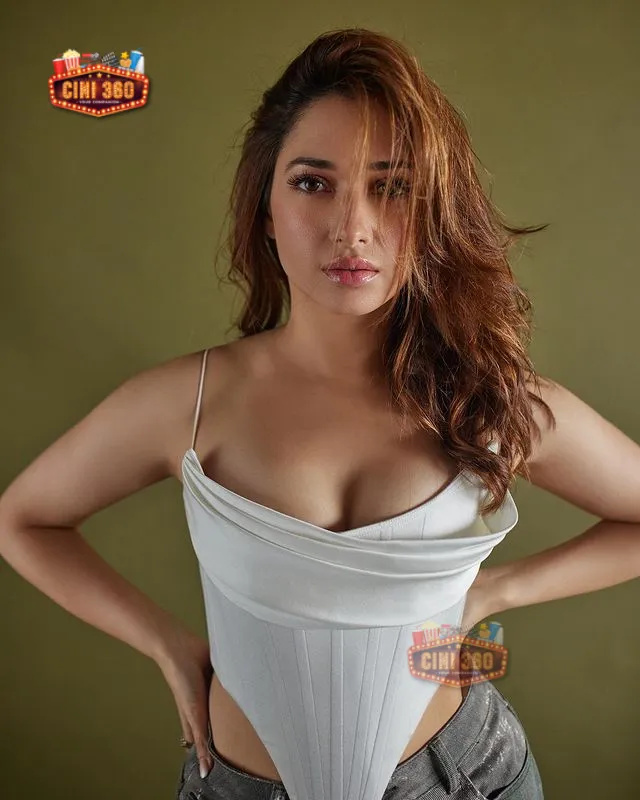 Tamannaah Bhatia's sassy Instagram post
On Thursday, the stunning actress Tamannaah delighted her fans by sharing a series of captivating pictures on her Instagram. She exuded confidence and allure, leaving everyone mesmerized with her sizzling appearance. The post was dedicated to the launch of the song "Tu Aa Dilbara," the Hindi version of the chart-topping dance track "Kaavaalaa" from the movie Jailer.
In the photos, Tamannaah, fondly known as Tammy, looked absolutely breathtaking. She donned a white corset-top with a daring plunging neckline, perfectly accentuating her elegant figure. The top was flawlessly paired with stylish gray cargo denims, striking a perfect balance between chic and casual.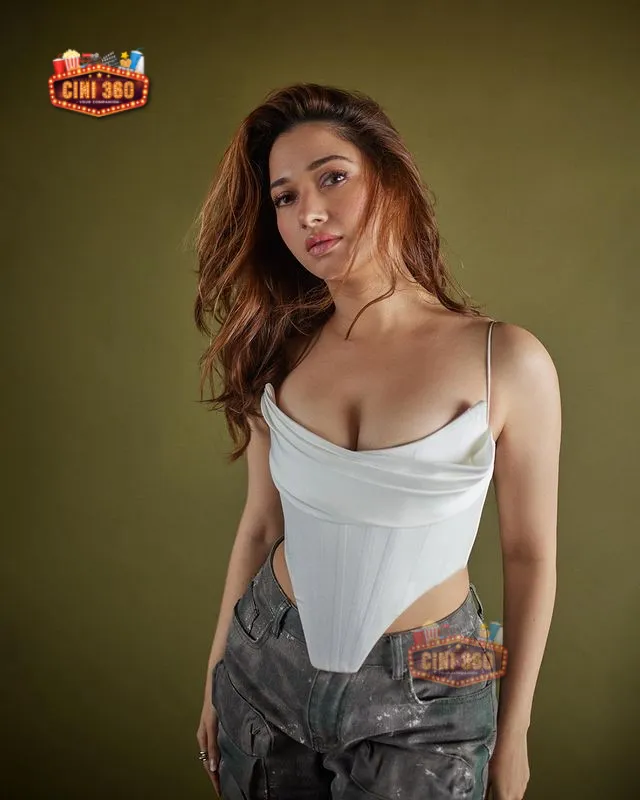 With her radiant smile and hair flowing freely, Tamannaah's enchanting beauty was on full display. The open hair added a touch of softness and grace to her overall appearance, making her look like a true diva.
To elevate her already glamorous ensemble, the talented actress opted for golden pumps, which not only added a dash of sophistication but also perfectly complemented her outfit. The choice of shoes exuded a subtle yet powerful aura, befitting her status as a style icon.
Tamannaah's makeup was another highlight of her look. She opted for a dewy makeup look, which added a natural glow to her skin. The subtle pink hues on her lips and cheeks added a delightful touch of color, enhancing her features in an elegant manner.
The combination of the white corset-top, gray cargo denims, golden pumps, and the impeccable makeup look showcased Tamannaah's exceptional fashion sense. Her impeccable style and charisma shone through the photographs, leaving fans in awe of her beauty and talent.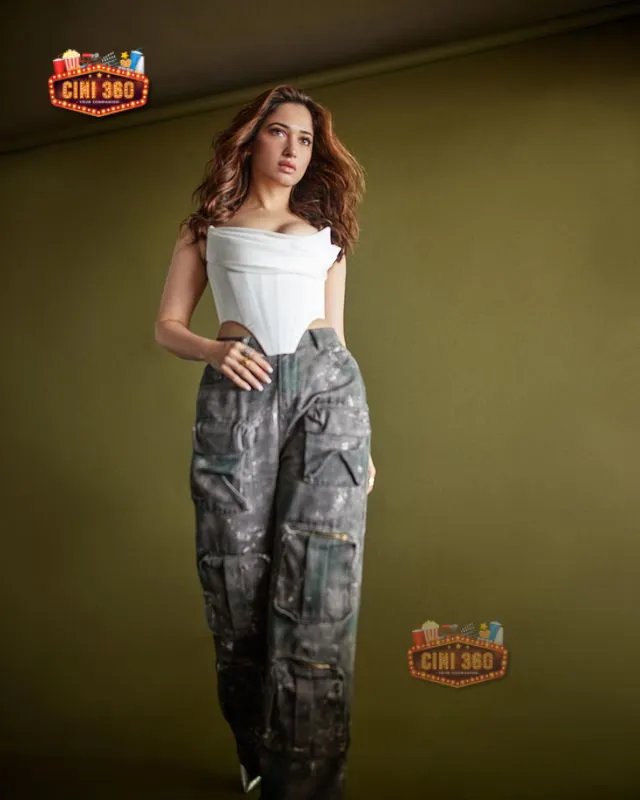 With each picture, Tamannaah effortlessly flaunted her curves and poise, making a striking statement of her innate confidence. Her social media post not only celebrated the release of "Tu Aa Dilbara" but also served as a delightful treat for her admirers, reaffirming her position as a beloved celebrity in the hearts of fans worldwide.
Vijay Varma's comments on Tamannaah Bhatia's post 

According to reports, the stunning pan-India actress, who is rumored to be in a relationship with Vijay Varma, has undeniably captivated him with her irresistible charm, evident from his recent comment on Tamannaah Bhatia's latest post. The actress has been sharing steamy photos that showcase her oomph factor, leaving Vijay Varma undoubtedly smitten.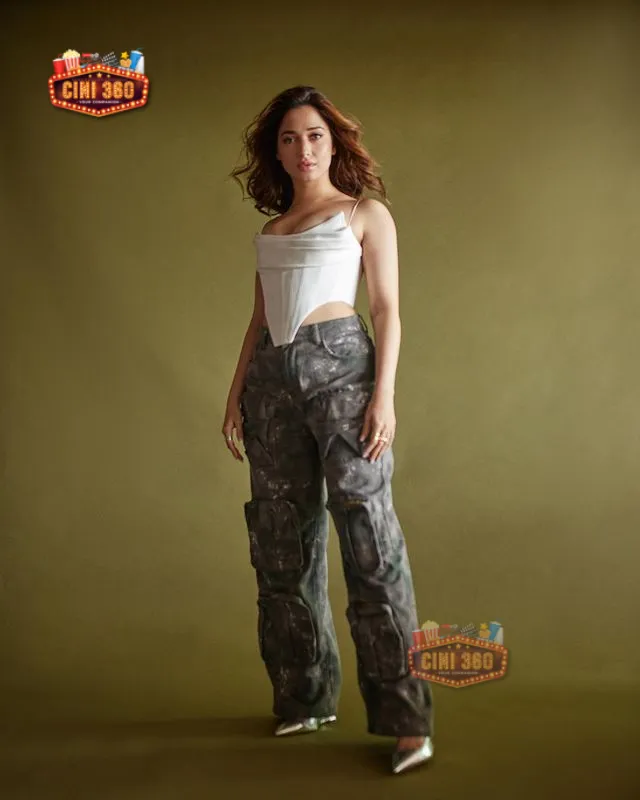 The actor, known for his role in "Dahaad," couldn't resist expressing his feelings as he took to Tamannaah's comment section and playfully remarked, "Heat wave in monsoon? (wondering emoji)." This light-hearted yet flirtatious comment from Vijay added fuel to the speculations surrounding their alleged romance.
However, Vijay wasn't the only one enchanted by Tamannaah's allure. Fans from all corners poured into her comment section, showering her with praises and adoration. One fan couldn't help but exclaim, "Raising heat on rainy weather," while another commented, "Looking so hot and attractive." The flood of compliments continued, with fans referring to her as a "Queen" and expressing their admiration for her captivating beauty.
Tamannaah Bhatia's online presence seems to have created quite a stir, not only among her followers but also with her rumored beau Vijay Varma. Their playful banter and the fans' overwhelming reactions only add to the excitement and curiosity surrounding their alleged relationship.
Tamannaah Bhatia on the work front

In the recent past, fans had the pleasure of seeing Tamannaah Bhatia share the screen with Vijay Varma in Lust Stories 2. However, the talented actress is now gearing up for an even more exciting project, as she is set to grace the silver screen alongside the one and only superstar Rajinikanth in the upcoming Tamil film, "Jailer." This action-packed entertainer is directed by the acclaimed filmmaker Nelson Dilipkumar and promises to be a treat for Rajinikanth's fans and Tamil cinema enthusiasts alike.
In "Jailer," Rajinikanth takes on the role of Jailer Muthuvel Pandian, a character that is bound to showcase his unparalleled charisma and acting prowess. The anticipation for this film is soaring, especially with the inclusion of Tamannaah Bhatia, whose performances have always been lauded for their charm and talent. Alongside Rajinikanth and Bhatia, "Jailer" boasts an impressive ensemble cast, featuring Priyanka Mohan, Shiva Rajkumar, Jackie Shroff, Ramya Krishnan, Yogi Babu, Vasanth Ravi, and Vinayakan in significant roles, promising a power-packed cinematic experience.
Adding to the star-studded lineup, Nelson Dilipkumar has managed to secure the presence of the renowned Malayalam superstar Mohanlal for an extended cameo appearance, further elevating the excitement and curiosity surrounding the film.
The release date for "Jailer" is highly anticipated, and fans can mark their calendars for 10th August when the movie is set to hit the screens. With the perfect blend of action, drama, and stellar performances, "Jailer" promises to be an unforgettable cinematic journey, leaving audiences in awe of the unparalleled talents of Rajinikanth, Tamannaah Bhatia, and the entire ensemble cast.