The movie starring Thalapathy Vijay and Lokesh Kangaraj has received official announcement. The creators disclosed information about their technical team and promised swift updates.
The long-awaited and major news has arrived. The movie starring Thalapathy Vijay and Lokesh Kangaraj has received official announcement. The filmmaker posted a photo of himself and Vijay together and remarked how happy he was to work with the actor again. The funding for the untitled movie will come from Seven Screen Studios.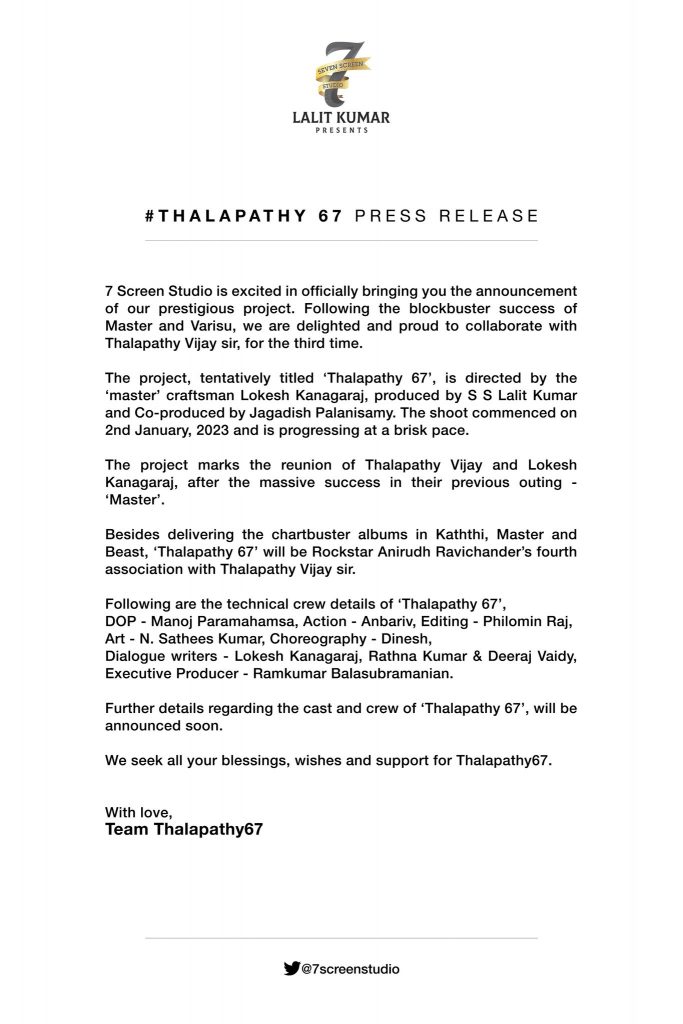 With a poster and press release that also includes the technical crew's information, the movie's creators revealed the joyful news. Manoj Paramahmas is in charge of DOP, Anibrav will choreograph the action scenes, and Philomin Raj is in charge of the editing. Along with directing, Lokesh Kangaraj is also writing the script.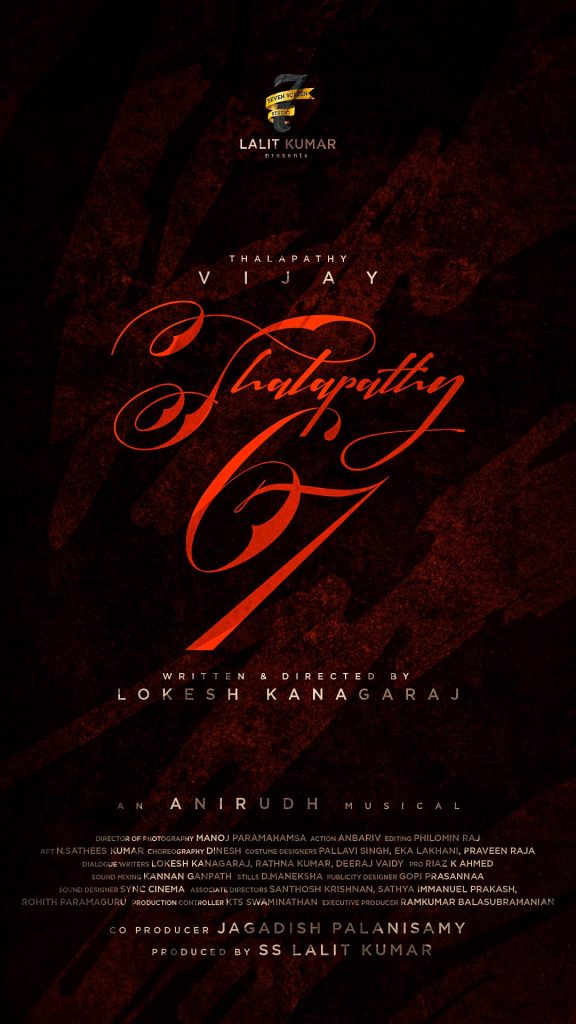 On Twitter, the creators wrote: "#Thalapathy67, the one and only brand, is offered with pride by @7screenstudio. We are thrilled to publicly present to you the news of our most esteemed endeavour. For the third time, we are thrilled to work with #Thalapathy and @actorvijay sir."
Take a look at official announcement of Thalapathy 67 here;
After the huge success of Master, the actor-director combo will team up again for the film, which has a working title of Thalapathy 67. The much anticipated movie is a part of the Lokesh Cinematic World, often known as LCU. Lokesh Kanagaraj, the filmmaker, created this action-crime thriller universe.
The Thalapathy 67 announcement teaser won't be released in January, according to Lokesh Kanagraj. Additionally, he stated that this year's teaser release will take place within the first week of February. The true cause of the teaser release's delay hasn't been disclosed by the filmmaker, though.
About Thalapathy 67
The much awaited film, which is a part of the Lokesh Cinematic Universe, or LCU, will star Thalapathy Vijay as a 40-year-old criminal. Trisha Krishnan will play the female protagonist in the film, reuniting the two of them after a very long time apart. With this movie, famous Bollywood actor Sanjay Dutt will make his Tamil film debut as the main antagonist. Cast members of the project include Mansoor Ali Khan, Arjun Das, and actor-director Gautham Vasudev Menon, among others. The celebrity cast is also believed to include Chiyaan Vikram and Kamal Haasan. The project's original music and song compositions are being done by Anirudh Ravichander.