Netflix released the rest of the episodes of The Glory and we have opinions!
Name: The Glory Pt. 2
Premiere date: March 10, 2023
Cast: Song Hye Kyo, Lee Do Hyun, Im Ji Yeon, Jung Sung Il, Park Sung Hoon, Cha Joo Young, Kim Hieroa 
Director: Ahn Gil Ho
Writer: Kim Eun Sook
Number of episodes: 16
Genre: Thriller, Drama
Language: Korean
Where to watch The Glory Pt.2: Netflix
The Glory Pt. 2 Full Review: Continuing our evaluation of the first episode, or Episode 9, we will continue with the review of the narrative all the way to the conclusion, or Episode 16. The narrative of Moon Dong Eun's (Song Hye Kyo) retaliation was just beginning in Part 1, but it picks up speed in Part 2 and one can see how she tears down the strongholds of her bullies as well as the people around them who enabled them live a scot-free life in the present.
The following review contains a ton of spoilers so reader's discretion is advised :-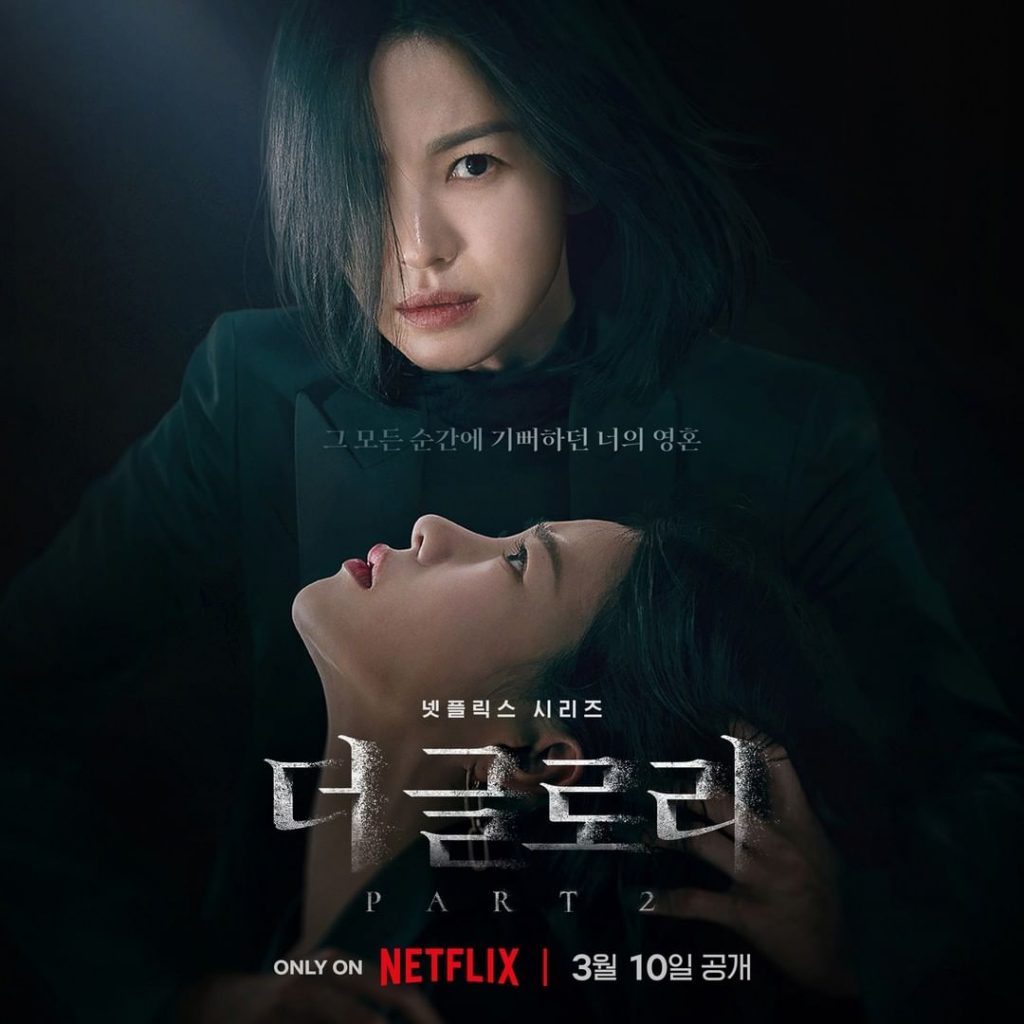 Moon Dong Eun vs Park Yeon Jin:  A lady whose soul was broken by violence in her youth is the subject of the Netflix series "The Glory," which tells the tale of both those who fall into the maelstrom and the woman whose soul was meticulously prepared for her whole life. Its popularity skyrocketed to the point that the debate also came under scrutiny. In image 2, the protagonist Moon Dong Eun (played by Song Hye Kyo) is seen adamantly carrying out her vengeance on Weathercaster Park Yeon Jin (played by Im Ji Yeon). In part 2, Park Yeon Jin began counterattacking to create the appearance of a crisis by looking for new methods to harm Moon Dong Eun, but soon the tables were turned and she forced Park Yeon Jin into a corner.
The rest of the characters:  The act of exacting retribution was more thrilling in Part 2. Park Yeon Jin's relationship with the murderers Jeon Jae Joon (Park Sung Hoon), Yi Sara (Kim Hieora), and Choi Hye Jung (Cha Joo Young) began to deteriorate, and Park Yeon Jin became concerned that the crimes she had committed would be discovered. When Moon Dong Eun questioned Park Yeon Jin's wall, "Are your walls always gleaming and sturdy?" it appeared to be sufficiently solid. But, the wall finally trembled and fell.
Ha Do Young vs Jeon Jae Joon: The two dads' battle for custody of their daughter Ha Ye Sol was now the main focus of the drama. Ha Do Young outshines Jeon Jae Young as a parent because he knew his position in her life and did all in his ability to protect her from it, unlike Jeon Jae Joon, who demonstrated that he would do everything for his kid, even beating a teacher up for taking indecent images of her. Jae Joon did not spend any time with her during this scene, but it was clear how much he desired her.
Moon Dong Eun and Joo Yeo Jeong: Part 2 also highlighted Moon Dong Eun and Joo Yeo Jeong's romantic relationship and how they complemented one another well. Unconditional love and support are shown between them, and it's clear that even Joo Yeo Jeong harbours secrets that Moon Dong Eun eventually helps him deal with.
The review: As there were several characters and their backstories were examined during the course of the series, the second half didn't have the same excitement or immersion as the first part since it concentrated on too many different facets of the drama. The bullies' decadence and how Moon Dong Eun only had to lift a finger for them to destroy themselves was the pleasant part. It provides an intimate look into the inner workings of wealthy individuals and the safety net that shields them from the repercussions of their decisions.