Legend Saravanan announces the official OTT release date of his debut film, 'The Legend'!
Legend Saravana is store owned by well-known businessman Saravanan Arul. In July of last year, the movie "The Legend," which debuted on screens, marked his entry into Tamil cinema and big-screen acting.
Directed by
J. D.–Jerry
Written by
J. D.–Jerry
Produced by
Saravanan Arul
Starring
Saravanan Arul, Urvashi Rautela, Geethika, Tiwary, Vivek, Suman & Nassar
Cinematography
R. Velraj
Edited by
Ruben
Music by
Harris Jayaraj
Production
company
Saravanana Productions
Distributed by
Gopuram Cinemas
Release date
28 July 2022
Running time
161 minutes
Country
India
Language
Tamil
The movie "The Legend" earned a respectable sum of money at the box office while receiving conflicting opinions from viewers. The movie's OTT release has long been anticipated by the audience. Now, Saravanan has announced on his social media accounts that the movie would soon have its digital premiere on a well-known streaming service.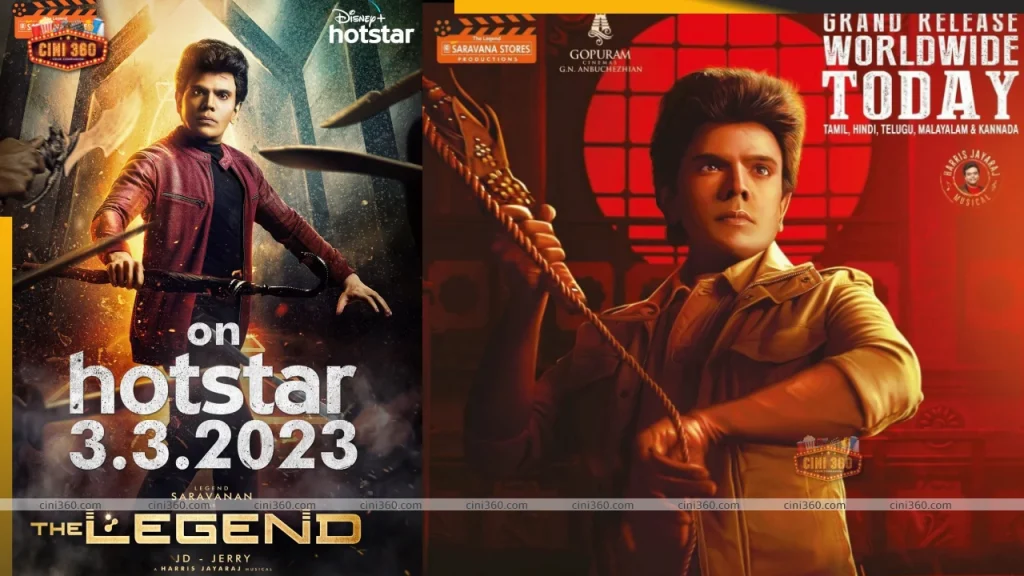 Despite the audience's varied reactions to the movie, it nevertheless managed to earn Rs 6 crore at the box office throughout its theatrical run. During the premiere of "The Legend," Saravanan Arul told the media in an interview that he would keep acting in movies. He has not yet made the projects he has agreed to work on public, though.
With Saravanan Arul, Urvashi Rautela, Suman, Geethika, Prabhu, Vivek, Vijayakumar, Yogi Babu, Vamsi Krishna, and Nasser among its cast, the movie is directed by JD and Jerry. Harris Jayaraj wrote the soundtrack for the film, which marked his return to the film industry after a four-year hiatus.
The Legend will be streamable starting today (March 3) on Disney Plus Hotstar, according to Saravanan. Around 12.30 PM, the sci-fi action comedy will premiere on the OTT platform.
Saravanan Arul, Urvashi Rautela, Suman, Geethika, Prabhu, Vivek, Yogi Babu, and Nasser are among the actors who appear in the JD and Jerry-directed movie. For the movie, Harris Jayaraj composed the soundtrack.