I'm not sure if the sound was created such that almost every performer sounded like they were whispering their lines, with the exception of those called upon to shout slogans or show sentiments of scorn and rage. (I watched it in Vanitha, one of Kochi's best theatres noted for its excellent audio and visual capabilities.) Most of the time, they get lost in the soundtrack and other background noises of the movie, and some of the early scenes' dialogue was understandably lost on me. I resisted the impulse to ask another spectator what anything meant on several occasions. Luckily, this doesn't interfere with the way the movie establishes the main characters and their relationships with one another. Who is who is clear to everybody.
Director: Rajeev Ravi
Cast: Nivin Pauly, Poornima Indrajith, Arjun Ashokan, Indrajith Sukumaran, Nimisha Sajayan, Darshana Rajendran, Sudev Nair, Manikandan Achari
The abrupt disappearance of Moidu's father Mymood (played by Joju George) while he was a youngster left him with major character flaws as an adult. So, it appears that Moidu views Pacheek as a substitute father figure when he joins forces with the same capitalist oppressor Pacheek — Sudev Nair doing what he does best — who insulted his father. By currying favour with Pacheek, Moidu becomes one of his hired thugs, just like one of those American house slaves. Given Mymood's relationship with Pacheek in the past, it is obvious that this friendship won't turn out to be as lovely as Moidu had thought. Nivin effortlessly assumes the role of Moidu, developing him from an impressionable child to a fully grown thug willing to carry out any order from his master. His mother (Poornima Indrajith), brother (Arjun Ashokan), and sister (Darshana Rajendran) all support his way of life.
Thuramukham is a chronicle of the cruel and unfair "chappa" system of hiring labourers, in which metal coin tokens (chappa) were dispersed into the air until they reached the "lucky" ones. The uneasy alliance between stevedore contractors, supervisors, and two opposing unions is shown, and it becomes murkier and murkier as the movie goes on. Director-cinematographer Rajeev Ravi focuses his camera on the members of one family and their well-wishers, whose lives are impacted by the schemes of the exploiters, in an effort to document this little-known, formative period of Kerala history (from Kochi-Mattanchery) that had an impact on many marginalised families.
In addition to giving us an understanding of how the chappa system and various unions functioned back then, and how caste and community played a significant role in it, the film's screenplay does a good job of giving us a sense of its fairly epic scale, with the exception of course of the places where certain pieces of dialogue are inaudible. For instance, these managers prioritised those who could make a "gift" or other covert appeasement, leaving the remainder to fend for themselves without employment. The "chappa" was crucial to their survival.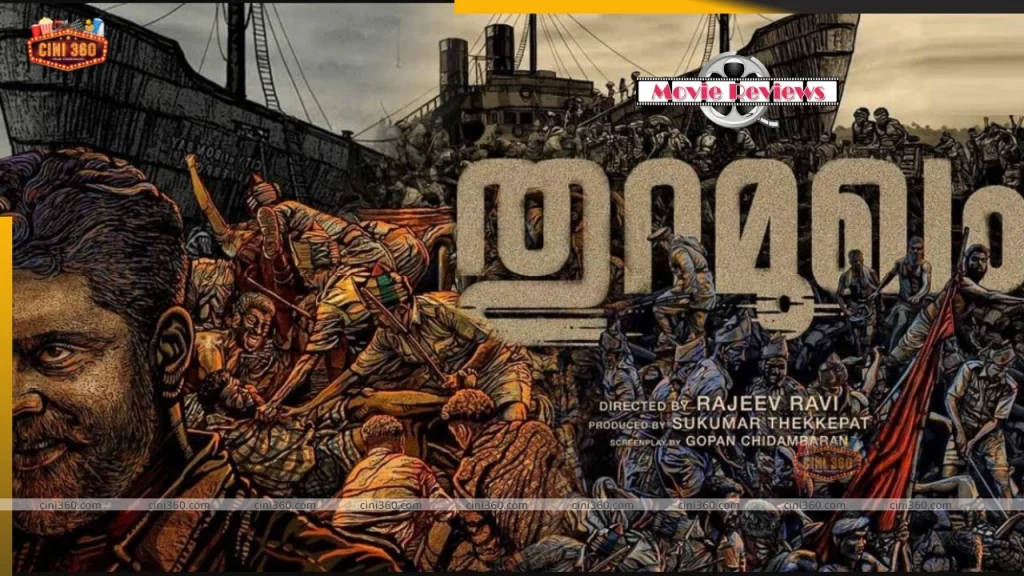 The dispute starts when Cochin Thuramukha Thozhilali Union (C.T.T.U.) and Port Cargo Labour Union (P.C.L.U.) clash when the former enters into a joint venture agreement with the contractors and agents, leaving them with sole discretion over who receives the chappa. In parallel, Gopan Chidambaram's script for Thuramukham also serves as a Cain and Abel tale in which Moidu's younger brother Hamza (Arjun Ashokan) seeks to join the P.C.L.U., but is repeatedly hindered in his endeavours by Moidu and his henchmen at Pacheek's command. Given the same themes of devotion and betrayal in Thuramukham and Kammattipadam, it feels like a darker companion piece to the former. There are only losers here, not winners.
The males may have started the events in Thuramukham, but once the men leave, the women are left to deal with their effects. Whether it's the mother, sister, or Umani (Nimisha Sajayan), the lady Moidu saved but for whom Hamza has a soft spot, none of the ladies have it easy. Poornima is given the most intricately drawn persona by Thuramukham, and she excels in it. Even when the character ultimately reaches the inevitable breaking point, Poornima maintains her acting subdued and subtle despite the hardships the character must suffer as a wife and mother.
It's clear that the movie wants us to have a specific reaction to Nivin's Moidu, and it succeeds in putting some distance between him and us. This is understandable because Moidu isn't a hero-type figure, despite the redemption journey he experiences in the third act. Yet, I think the movie acts strangely when it comes to Arjun's Hamza. Despite the fact that this character is intended to be the most charming of all the male characters in Thuramukham, I had trouble connecting with him or any of his innumerable acts of selflessness.
Another issue I have with Thuramukham is how the conflict is portrayed. That didn't affect me as much as I had hoped it would considering the topic, which is one that should make my blood boil. The similar issue plagued another movie about marginalised communities, Pada, which, like Thuramukham, was technically sound but fell short of evoking a visceral response. Santo Gopalan, played by Indrajith Sukumaran, I believed, channelled the revolutionary spirit far better than some of his other actors.
Also, the fact that the movie's background soundtrack, which is better as a stand-alone composition, sounds out of place when played alongside the scenes it should enhance, didn't help. The majority of Thuramukham's music, which features a sluggish guitar and saxophone score, doesn't mesh well with the film's whispered talks, sombre scenes, and boring activities.