A fan group posted an artificial intelligence (AI)-created image of Priyanka Chopra and her daughter Malti Marie Chopra Jonas on social media on Thursday.
Malti Marie Chopra Jonas, a child of Priyanka Chopra and Nick Jonas, just celebrated her first birthday. The beautiful pair chose to unveil their munchkin's face shortly after the child turned one. While supporting Nick and the Jonas brothers at the Hollywood Walk of Fame, Priyanka made her first public appearance with Malti Marie. Their daughter's images quickly became popular on the Internet, and admirers couldn't stop raving about her. A fan club released an AI-generated image of Priyanka and her kid on Thursday.
AI imagines Priyanka Chopra as Queen and Malti Marie as a princess
Malti Marie portrays a small princess in the reproduced photo, while Priyanka is costumed as a queen. Malti Marie is wearing white with golden ornaments, while Priyanka has a crown on her head. The fan club posted this lovely image on social media as a gift to everyone. Look at this: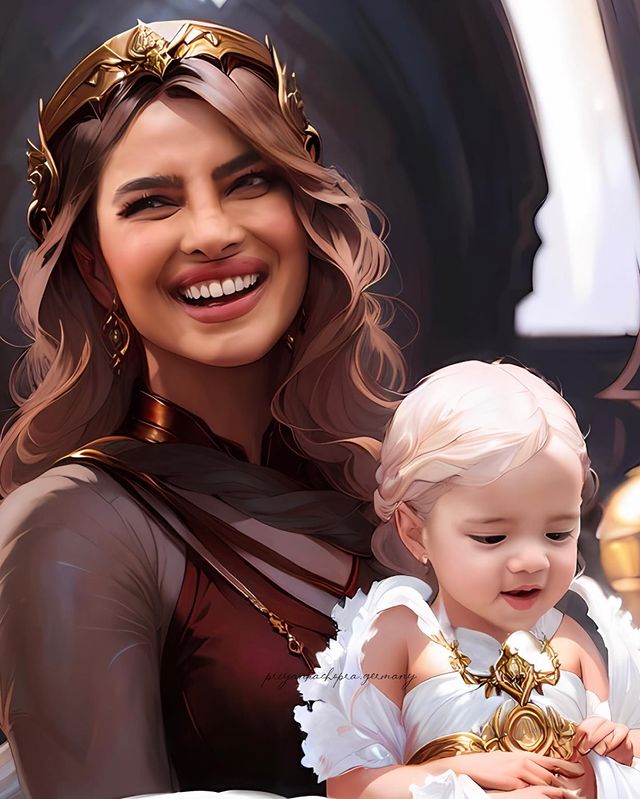 The moment the photo was released, Priyanka's followers began to go crazy. They were gushing about how adorable Malti Marie looked. "Very inventive love this," said an admirer. "Priyanka ki pari," said another devotee. Other others could be seen flinging red heart emoticons.