On Instagram, Jeremy Renner posted a behind-the-scenes shot from his upcoming Disney series Rennervations. He said that following his snow ploughing mishap, he is "in shop."
Jeremy Renner keeps his followers and admirers informed on his recovery. For those who don't know, the actor who plays Hawkeye was injured in a snow plough accident on New Year's Eve and had to be taken to the hospital. Now, in addition to updating the public on his health, Jeremy has previewed his new Disney programme Rennervations. Continue reading to learn more.
After a snow plough mishap, Jeremy Renner teases a new Disney television series.
Jeremy posted a picture of a behind-the-scenes shot from his forthcoming programme Rennervations on his Instagram account yesterday. Renner will travel the globe in the four-part Disney series as he engages with various communities and helps them design distinctive, purpose-built automobiles.
Sharing the image, he captioned it, "Behind the scenes on ['Rennervations'], soon to be available on Disney+ worldwide! Disney and Disney+ are getting ready to unveil this incredible new show. More details to come. The actor commented, "Thank you for your patience…," before going on to say that he is also working on himself. while they are working on me at the shop right now."
Jeremy Renner's Instagram post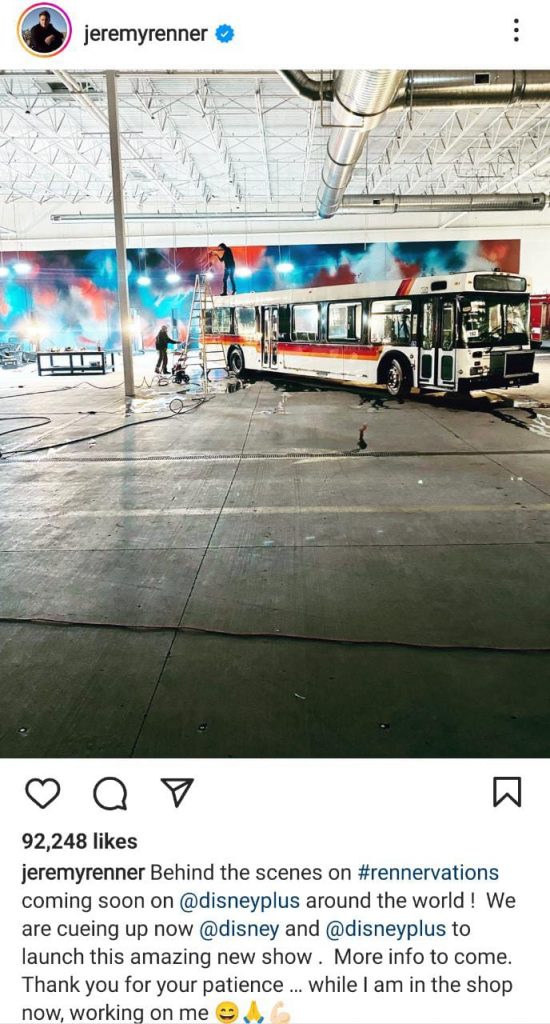 What happened to Jeremy Renner?
After New Year's Eve in Reno, Nevada, Jeremy Renner was injured while ploughing snow and was taken to the hospital. On January 1st, the actor's agent revealed that the actor had a snow ploughing accident and was sent to the hospital as a result. According to the information provided, Jeremy's condition at the time was serious but stable.
The Marvel star had to be flown out of a Nevada hamlet when a snow plough accidently ran over his leg. After the incident, Renner was airlifted, according to TMZ. According to the account, an actor's medical neighbour was able to apply a tourniquet to the Avengers star's leg until paramedics could transport him to the hospital. He sustained wounds such as blunt chest damage. He disclosed that the accident had caused him to break more than 30 bones.
ALSO READ: Jeremy Renner shares first photo since major accident; Avengers co-stars react