You should do one thing for me, Vijay Deverakonda, the star of Liger, said, "I guarantee you… the movie will rock. You should shake Guntur on 25th."
Actor Vijay Deverakonda is incredibly confident that Liger, his first film to be shot entirely in India, will be a box office success when it opens in theatres on August 25. The promotional team is travelling the nation in advance of the release, and they stopped in Guntur on Saturday for the movie's pre-release event. The sizeable crowd that showed up for the event demonstrated Andhra Pradesh's obsession with Vijay Deverakonda and Liger.
At the occasion, Vijay Deverakonda said: "Over the past twenty days, I have spent each day visiting a different city. I'm exhausted, and my health isn't cooperating either. However, Guntur, I was still drawn to come here because of your love. When I read this script and while filming, the word "mental" kept coming to mind. My most treasured memories are of Liger promotions. Liger will be my first effort to provide you with numerous such memories. You can count on the movie to be awesome. One thing you should do for me is shake Guntur on the 25th. 25th of August, Waat Laga Denge ".
The actor's remarks take on greater significance against the backdrop of some boycott calls for the film over Vijay Deverakonda supporting Aamir Khan after Laal Singh Chaddha underperformed at the box office, allegedly as a result of boycott calls fueling his anti-Hindu stance in the past.
The netizens calling for the Liger ban are citing a number of additional reasons in addition to the ones mentioned above. The Telugu movie is being boycotted primarily as a result of Karan Johar's involvement. A user posted, "I'm going to skip the movie. There should be no connection between you and KJO or anyone else from Bollywood. #BoycottLigerMovie Boycott Tiger, Bollywood, and Hollywood-related products and services. Completely." one more revealed, "Vijay, you don't understand why people to boycott. Because Bollywood consistently disrespects our culture and because its actors frequently make hurtful statements. A person who considers themselves a star. #BoycottLigerMovie."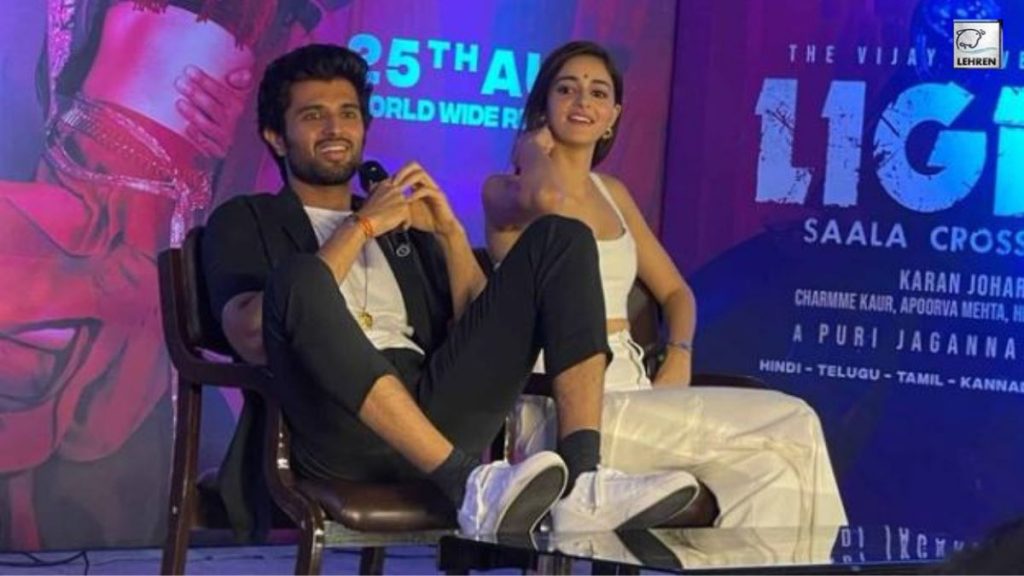 A third individual wrote, "#BoycottLigerMovie Anyone who tries to defend this disgusting URDUWOOD will be immediately added to the list of BOYCOTTERS! We want good content and nationalist movies, not to give charity to their families!"
Following Laal Singh Chhadha, Raksha Bandhan, Dobaaraa, and the upcoming Pathaan, internet users have called for a boycott of these films for a variety of reasons.
Puri Jagannadh, the film's director, meanwhile, showed no signs of tension and expressed confidence in it. At the occasion in Guntur, he said: "I get the impression from the crowd that Liger is celebrating his success here. It doesn't appear to be a film's pre-release advertisement. If each of you purchases a ticket, the film will be a box office success. Vijay was awesome in the movie. Ananya and Ramya Krishna are also. The star will be Mike Tyson. He is unbeatable. Before watching the movie, research his greatness; it will make the experience even more enjoyable. We began and finished one schedule of JGM with twice the budget of Liger even before we knew the outcome of Liger. That is how confident we are in this movie."
Ananya Panday, who makes her Telugu debut with Liger, found the large crowds at the venue to be a revelation. She even made an attempt to speak a few Telugu sentences. "I really enjoy Telugu audiences. Prior to arriving here, Puri garu informed me of Guntur. He claimed that if we strike in Guntur, all of India would hear the impact. For my Telugu debut, I had the best cast possible, including Vijay, Puri, Charmee, and others. After my release, I'll travel to Guntur, where we'll rock "The crowd erupted in applause at what she said.